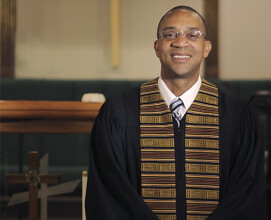 Reverend Keith A. King
Senior Pastor
Office: 203.624.3028
E-Mail:

Reverend Keith A. King was born and raised in Saginaw, Michigan and is the youngest of seven children. He graduated from Howard University with a Bachelors of Arts degree in international business; he received a Juris Doctorate from Georgetown University Law Center and a Masters in Theology from Andover Newton Theological School. Upon completion of law school, he immediately entered the United States Marine Corps as a Judge Advocate General ("JAG"). While serving as a JAG officer, he was awarded a Naval Achievement Medal by the Secretary of the Navy for his professional achievement in the superior performance of his duties. He ended his active duty service with an honorable discharge at the rank of Captain. As an attorney he is admitted to practice law in the State of Connecticut, Pennsylvania and the District of Columbia. He is also admitted to the U.S. District Court, District of Connecticut and the Second Circuit Court of Appeals
Reverend King has been blessed by a dual path of accomplishment both vocationally and professionally. Vocationally, Reverend King accepted his calling to ministry in 1992 and was ordained in 1996 at Zion Missionary Baptist Church in Saginaw, MI. After accepting the call into the ministry, while stationed at the Marine Corps base in Twentynine Palms, CA, Reverend King and a small group of ministers were led by God to start a chapel service on the military base. They were given unprecedented authority to preach, teach and structure the Sunday and Friday night worship services. The result was astounding, as the services grew to one of the largest in the community. Reverend King's desert experience prepared him for his next steps in ministry centered on God's Word and true Christian fellowship in the church.
In 2004, Reverend King assumed his current role as the third pastor of Christian Tabernacle Baptist Church ("CTBC") in Hamden, CT. Under Pastor King's leadership, in cooperation with church leadership, associate ministers and the membership, CTBC continues to steadily grow. During Pastor King's tenure the ministry has been centered on the church becoming unified through the "We Are One Ministry", which establishes a system of care designed to keep members connected. Through this ministry the entire church membership is divided among twelve groups, symbolic of the twelve tribes of Israel, and the groups strive to efficiently and consistently bear one another's burdens and celebrate one another's joys through activities and fellowship. Under Pastor King's guidance, by the power of the Holy Spirit there has been substantial growth in membership and development at CTBC. Rev. King and his wife have been married for over 25 years, and are the proud parents of three children.